Research
Welcome to the Research Programs of the Department of Surgery at Weill Cornell Medical College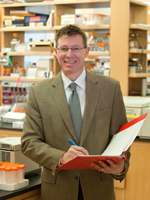 Now is an exciting time for new research initiatives in the Department of Surgery. Our overall research goal is clear: to bring to the bedside new approaches to treat debilitating human disease, based on the development and translation of basic science breakthroughs. We know this requires a true fusion of basic science and clinical expertise.
Of course, this presents real challenges. But we have the advantage of faculty that are comfortable using cross-disciplinary approaches to meet these challenges and develop novel therapies to treat and cure disease. We can combine our expertise in the molecular genetics of cell and organ development and function, with expertise in the surgical sciences to identify and target the bottlenecks that currently impede clinical progress. Our investigators are engaged in many collaborative efforts, here at Weill Cornell, across the Tri-Institutional community (including Memorial Sloan-Kettering Cancer Center, and The Rockefeller University) and beyond.
I invite you to explore the Programs list in this website and to meet our Faculty. If you are interested in a medical, graduate, postdoctoral, or residency program, you will want to learn more about our outstanding Training opportunities. The Department has active research programs that impact cancer, stem cell therapies, cardiovascular disease, diabetes, transplantation and wound healing, among others. Administrators, technicians, students, fellows, residents, and faculty all contribute to our research community and make a difference in bringing the unlimited potential of biomedical research to benefit the lives of our patients. Please feel free to contact us, if you need more information.
Sincerely,
Fabrizio Michelassi, MD
Chair
Todd Evans, PhD
Vice Chair for Research
Top of page