Clinical Experience
Clinical surgical training at NewYork-Presbyterian Hospital/ Weill Cornell Medical Center is broad and comprehensive. It is designed to ensure that all residents receive an equal educational experience under appropriate supervision. Independent decision-making capability and operative management is the ultimate goal of the program.
The operative experience obtained by recently graduated Chief Residents places them amongst the highest percentile ranks when compared to all other residency review committee accredited programs in the country.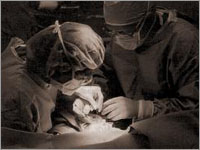 A typical caseload after five years of clinical training usually exceeds 1,100 total operative cases. In nearly 90% of these cases the resident functions as the "operating surgeon".
Top of page